Destroy procrastination in one look
Think deadlines help with procrastination? This is the ultimate deadline. Get inspired and make the most out of every week, every day, every minute.

A new habit that will change your life
Fill in a square each week. As simple as that. This will rewire your brain to start appreciating and enjoying every moment.

Accomplish long term goals
Pick a time to achieve your goal and mark it on your customized poster. You will see it in proportion to your whole life. But what's more important, you will realize that if you don't take action now, it will never happen.
Check Our Latest News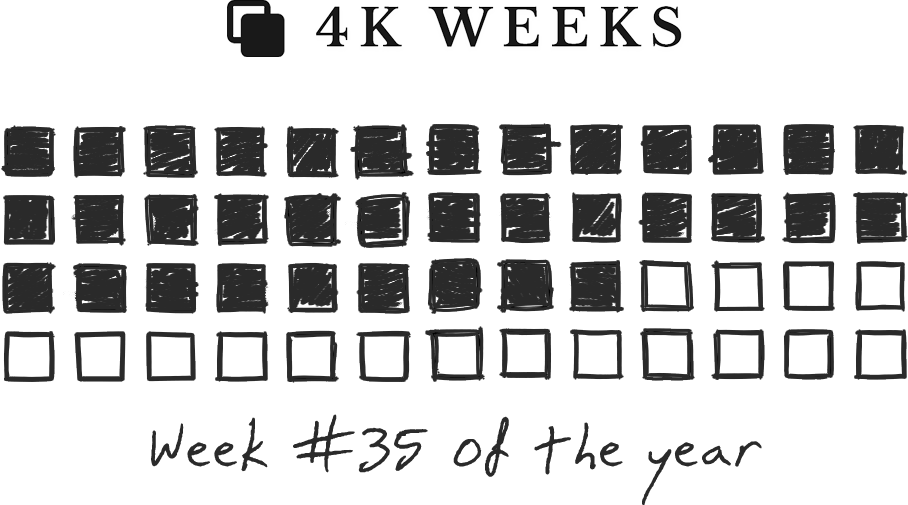 I have been pulling the 
Massive Action Society
 t
ogether, and it is a lot of moving pieces. A lot of systems need to be "just so" so that everything happens the way it is supposed to.  I am trying to channel my inner Oliver Burkeman. He mentioned this strategy on The Drive podcast last week.  Instead of being focused on the outcome, anticipating and hoping and angling... try to be curious.  "I wonder what will happen."
Here is a slightly deeper look into the two different mindsets from our "Happiness Peaks" email. This is the secret that makes hard-work stop feeling like work. This is not magic, this is a science-based theory, and it's strongly related to how our body chemistry works. Look closely at this chart. It's a visual representation of the evolution of happiness over time when you allow instant gratification to take control of your life. The Instant Gratification Junkie How does it work? Imagine you play video games for 3 hours. You will obtain  peak of happiness while you are playing—no problem with that. But then... The peak  happiness disappears, and you begin to fall below your base level of happiness. Dopamine exhausted. ...
View all articles