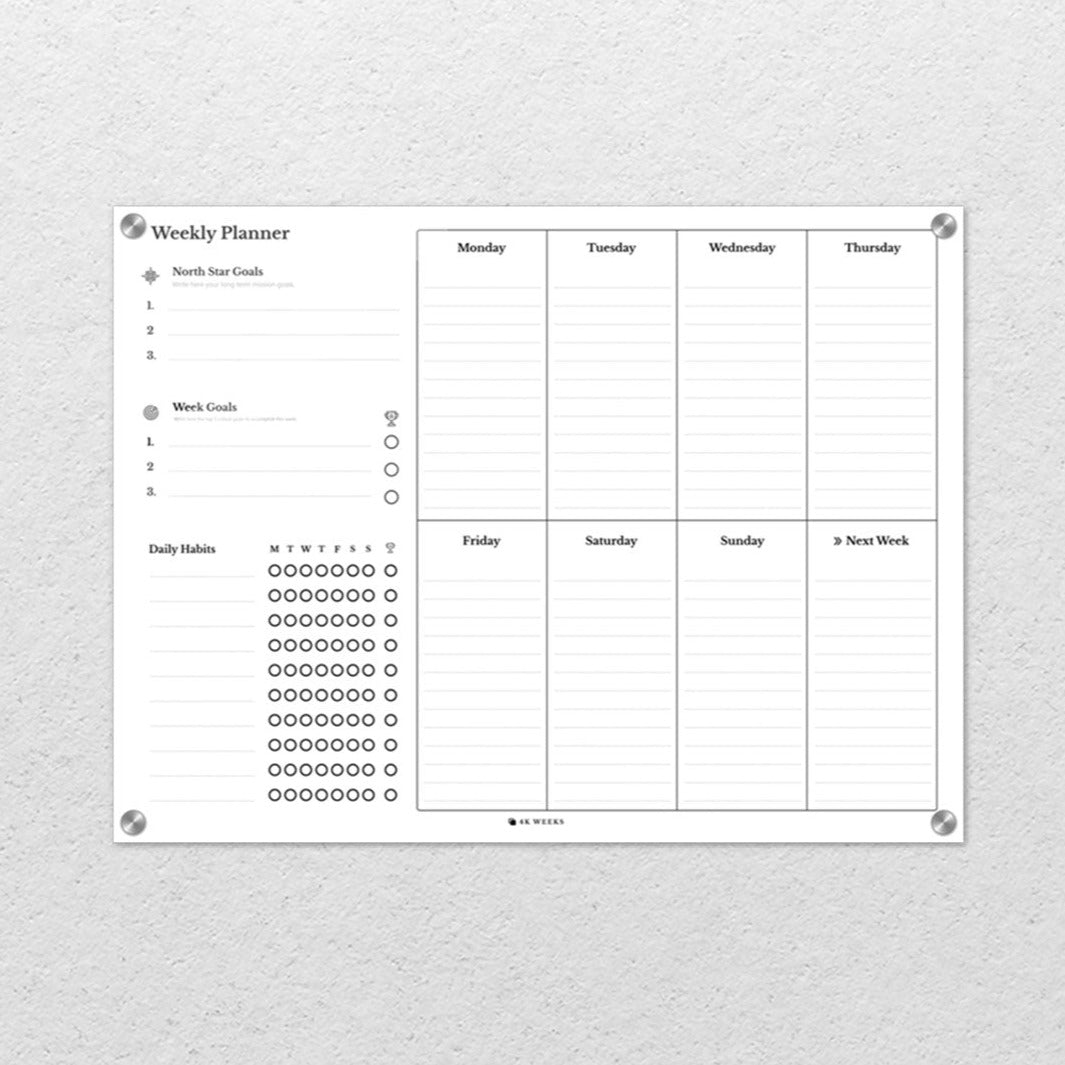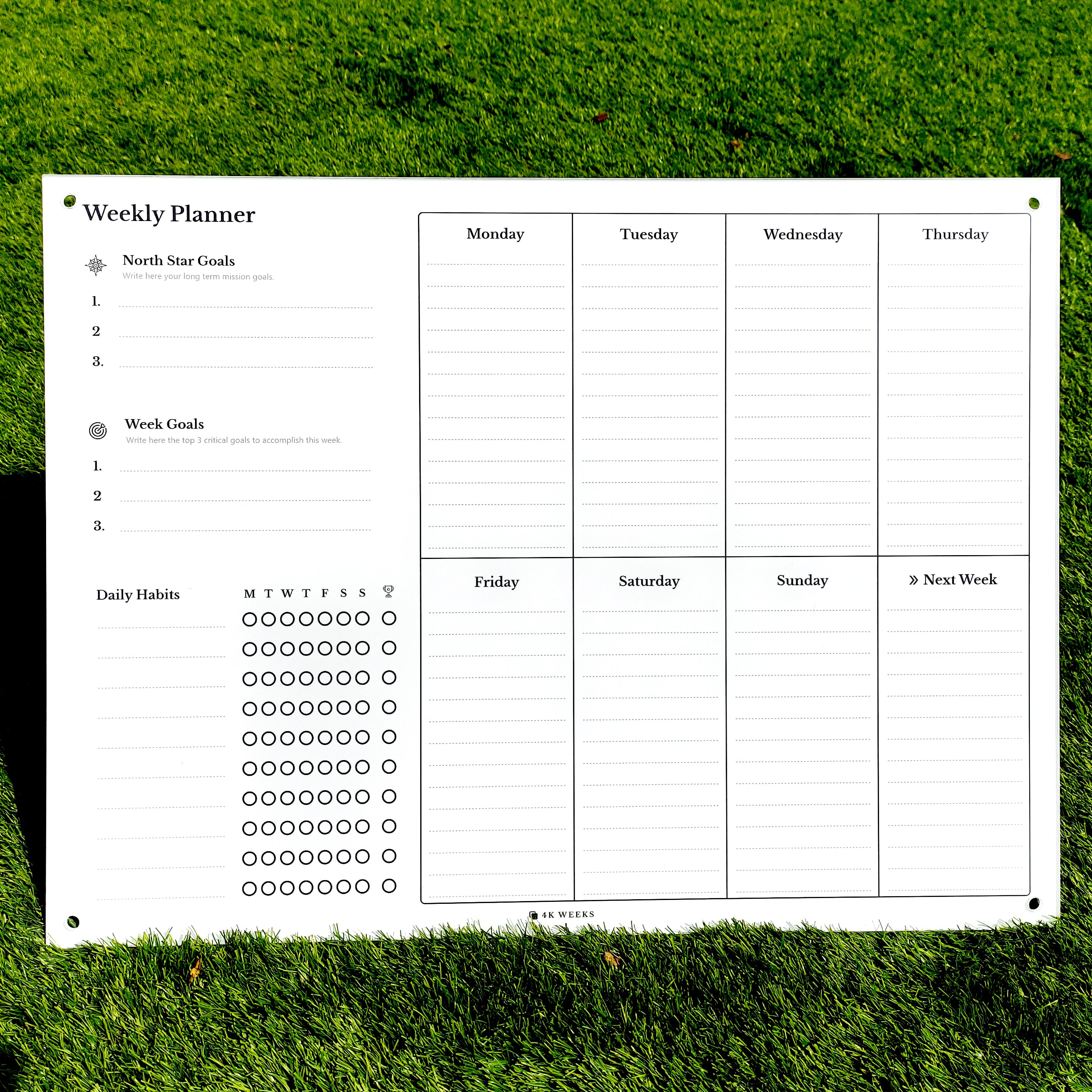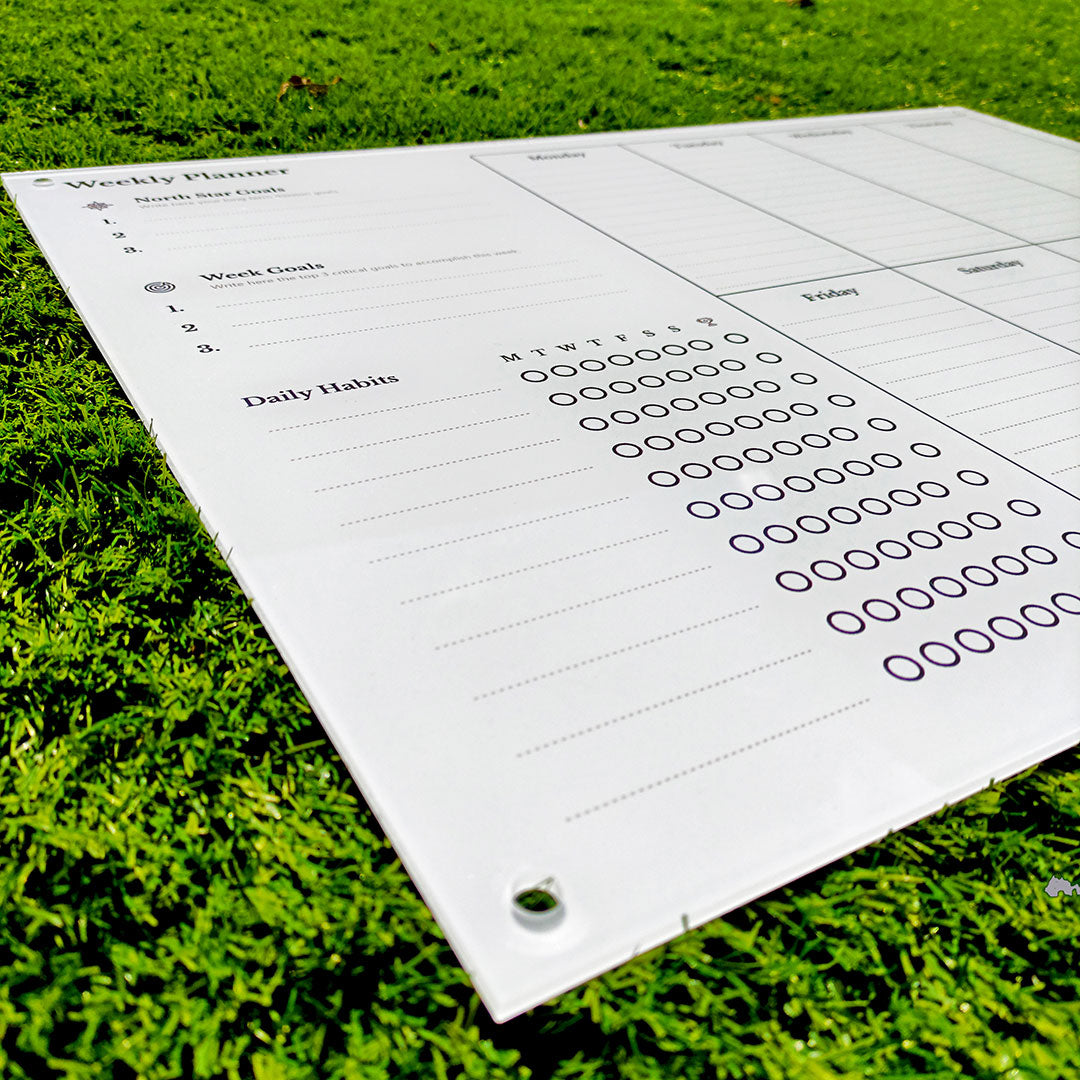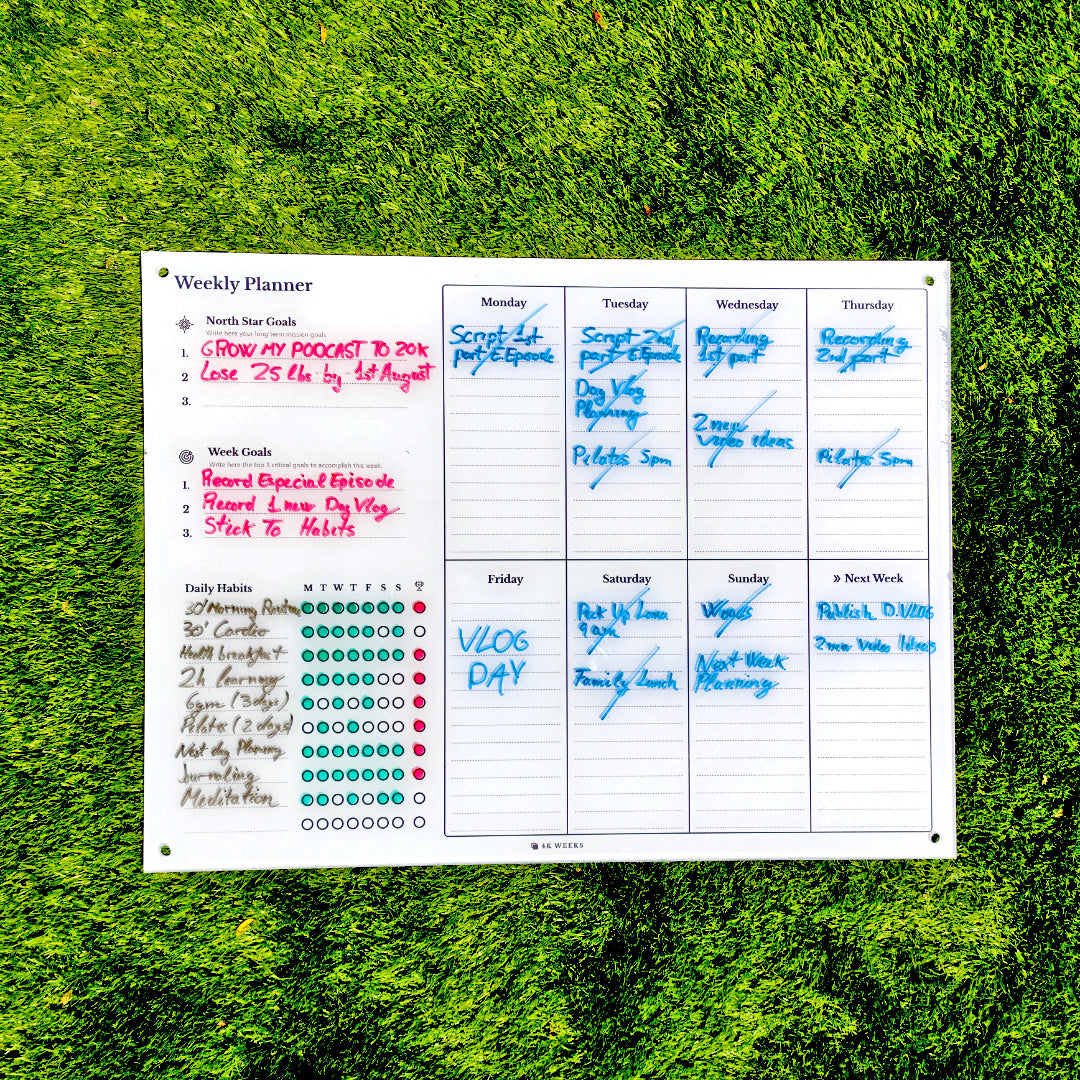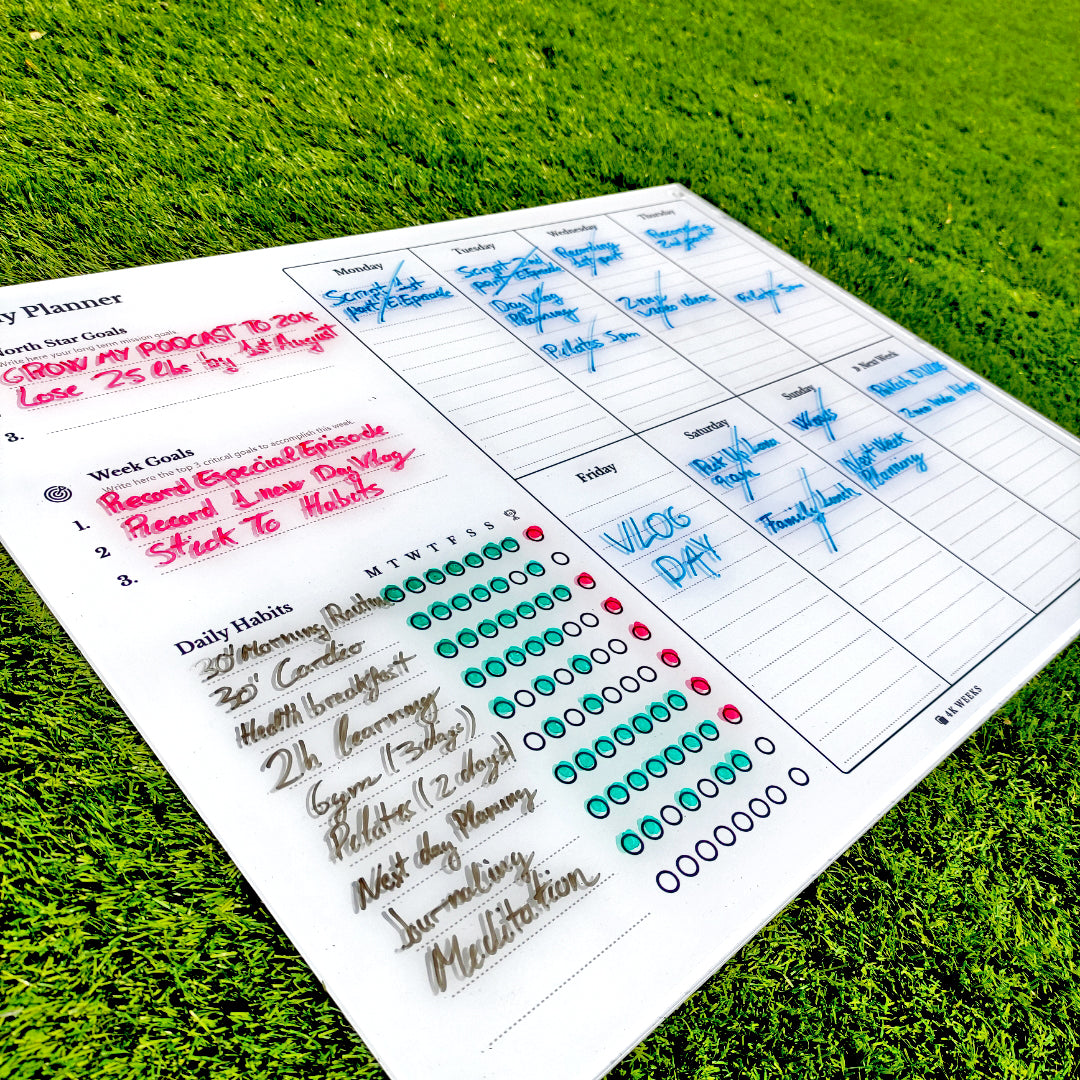 4k Weeks™ Weekly Planner
The 4K WEEKS Weekly Planner is our way of showing you that you can achieve almost anything if you focus your energies well.
We've collected all the wisdom, feedback, and suggestions from our community to create this weekly planner that will keep you focused on what's truly important and help you achieve your goals. How?
Plan

Plan each week with your North Star Goals as a guide. This will help you choose the daily tasks that will truly move the needle. Then you just have to laser-focus on those every day.

Take action

You don't need a perfect plan scheduled second by second for the next 3 years. You just need to start. Choose a direction, take action, and iterate as you go.

Build habits

Habits are essential to achieving any goal. That's why we decided to integrate a simple but effective habit tracker designed to help you visualize your progress and keep you accountable.

Clear your mind

Writing down all the tasks you need to accomplish will help you clear your mind and allow your brain to be in a focused calm and creative state. Remember, "Your mind is for having ideas, not holding them." – David Allen
Build momentum

Every day you will be completing meaningful tasks and habits. It will be hard at first, but you will start to build momentum in no time. This momentum will help you stay on track, stick to your plan and maintain motivation.
Printed on clear plexiglass
Dimensions: 24x18 in (45x60 cm)
Includes a hanging kit.
The pen is not included (Recommended pen thickness: 2-4mm)
Testimonials
This just kicked me in the gut when it arrived. I'm in love with it. It almost forces you to take action and pursue your goals. Life's too short to be doing something you dislike and to waste time on things which do not enrich our lives.
-Kelly King
Maybe this is not for everyone, but the powerful feeling I get when I look at my poster really helps me be more present and enjoy the little things of life.
-Debra Jenkins
Product received as described and quickly considering the covid complications.
Super happy with my calendar!
-David
This really is a wonderful product: it has a very strong motivational power on me.
The company is awesome: great customer service, quick shipping, safe packaging...
Perfect experience, I recommend doing business with them to everyone!
-Nicolas T